Winter holidays in the Ötztal valley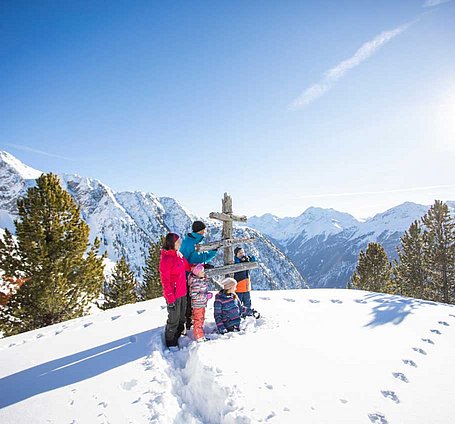 Tranquil winter landscapes
Winter hiking
The network of cleared and well-maintained winter hiking trails in Längenfeld is nearly 40 km long. After fresh snowfall, the paths are groomed again as soon as possible. Wondrous ice formations, snow-covered forests and meadows, and silence: These are the ingredients of a pleasurable hike through the wintry Ötztal valley. For a carefree holiday at the Hotel Rita, you can borrow backpacks, hiking poles and heart rate monitors free of charge.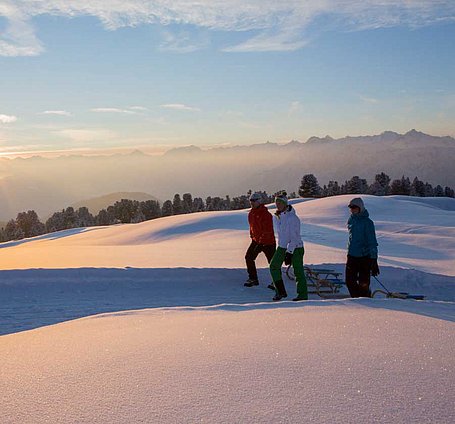 Toboggan fun for the whole family
Sledging paradise in Längenfeld
All around our feel-good hotel in Längenfeld, tobogganists can enjoy 5 fun toboggan runs with a total length of 18.5 km. Holidaymakers can combine the fast downhill runs of Längenfeld's tobogganing huts with wonderful winter hikes and a hearty snack. The 7.3-km toboggan run in Sölden also happens to be one of the longest in Austria. Start your adventure at the middle station of the Gaislachkogel cable car (free of charge with ski pass).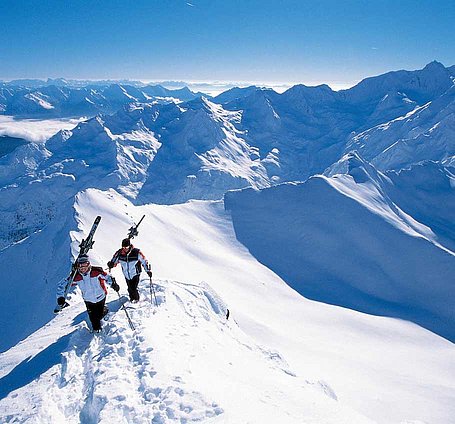 Ski mountaineering at more than 3,000 meters elevation
Längenfeld: Ski touring paradise
Gries im Sulztal is a first-class ski touring paradise during the winter months. The variety of routes attracts guests from all over Tirol to the high-Alpine landscape high above Längenfeld. From the Hotel Rita, you can easily access dozens of varied ski tours, such as the Winnebacher Weißkogel, Bachfallenkopf, Breiter Grieskogel, Hoher Seeblaskogel, Hinterer Daunkopf, Kuhscheibe, Windacher Daunkogel and many more.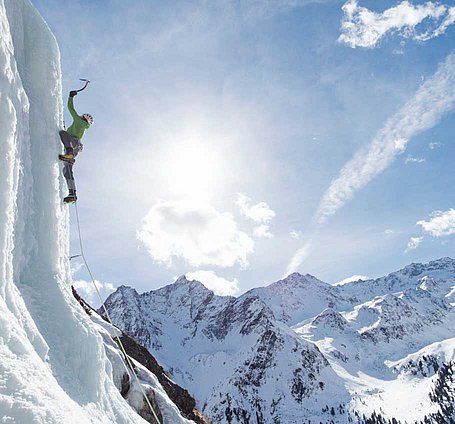 On frozen waterfalls
Ice climbing
In the Ötztal valley, there are numerous easy to challenging climbing routes on frozen waterfalls. Best of all, this trend sport is not just for specialists! In Längenfeld, the natural waterfall at the beginning of the old Burgstein road is ideal for ice climbing. State-certified mountain guides will introduce you to the glory of this superlative winter sport. Best of all, the Längenfeld tourist office organises weekly climbing evenings.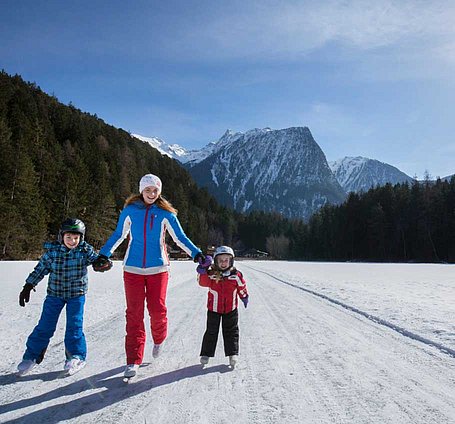 Never goes out of fashion
Ice skating & curling
It's no secret: floating over the ice with grace is a lot of fun. The ingredients? Well prepared natural ice and a little music as twilight sets in beneath a starry sky... So don't stay on the sidelines, lace up your skates! The ice rink in Längenfeld is open daily from 10 am to 9 pm and is also illuminated when it gets dark. Skating and curling equipment can be rented on site, so hit the ice and have fun!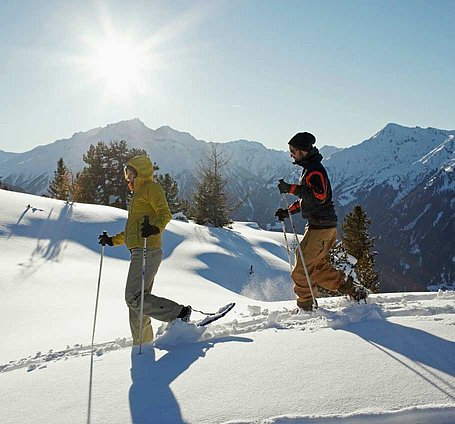 Make tracks through the deep snow
Snowshoeing is fun for one and all
While snowshoeing, discover the beauty of the snow-covered winter landscape from a completely different angle. The Hotel Rita is the ideal starting point for countless fascinating tours against the impressive backdrop of the Alps. Both the tourist office and private providers in Längenfeld organise guided snowshoe hikes, e.g. to the Sulztalalm, Nisslalm or Wurzbergalm mountain huts.
Keen to learn more?
We've got so much more to offer!